TealScript Plus
3.83
Replace or restore Graffiti with TealScript, the text recognition system you can customize. Unlike other systems, you can make or change your own strokes for better speed and accur
Last update
20 Mar. 2006
Licence
Free to try |

$34.95
OS Support
Mobile
Downloads
Total: 541 | Last week: 1
Ranking
#69 in Utilities
Publisher
Tealpoint Software
TealScript Plus Publisher's Description
Graffiti Reinvented and Replaced: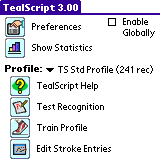 Graffiti Reinvented
Replace or restore Graffiti with TealScript, the text recognition system you can customize. Unlike Graffiti or other systems, TealScript lets you make or change your own strokes for better speed and accuracy.
Instead of forcing the user to adjust to a fixed set of reference strokes, TealScript is fully configurable, allowing training and modifying of existing strokes or addition of new ones for improved personal handwriting recognition.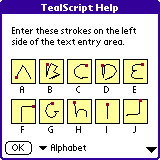 Feature Highlights

Improved recognition accuracy
Trainable strokes
Custom strokes
Graffiti 1 single-stroke characters
Multistroke characters
Exclusive Push-to-write mode
Write-anywhere mode
EZ Capitalization option
Stroke macros
Auto-shift disable option
Switch write-anywhere by app
Switch write-anywhere by GSI
Entry statistics
PalmOS 5 Compatible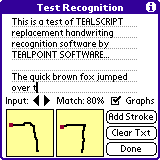 Special Functionality
TealScript also supports advanced features such as macro strokes, multi-stroke characters, easy capitalization, better accuracy, writing anywhere on the screen under OS5, and switching 'write anywhere' mode by application or graffiti state indicator toggle.

- Winner, PalmPilot Software Awards -
Winner, 1998 ZDNet PalmPilot Software Awards, 1998. Hacks category. "Improve Palm's handwriting recognition. If you find the Palm's Graffiti too rigid for your style, replace it with TealScript."
ZD Net/PC Magazine Online
- Ultimate -
The ultimate Graffiti enhancement... it's the work of a few seconds to define a new stroke for a character you've always had problems with... a useful tool.
PalmUser magazine
- Five Stars

-
Received five-star top rating and Editor's Pick by ZD Net editorial staff.
ZD Net Editors, ZD Net Online
- Complete Control -
Gain complete control over your Graffiti with TealScript. You can tweak nearly every aspect of the Graffiti alphabet to tailor it to your style of writing. Several alternative strokes come with the program, or you can replace the entire Graffiti system yourself by creating custom strokes for each character.
PC Novice Guide to Computing

BONUS: A special for Handango, this enhanced bundle includes TealPoint VersionMaster for PalmOS. A $10 value, VersionMaster effortlessly tracks all your TealPoint applications, finding, downloading and installing new updates, when available.

A leading provider of software solutions for handheld devices, TealPoint Software currently offers 27+ productivity products for the PalmOS platform. Selections include TealDoc, the superior document reader, TealMovie, the award-winning multimedia player, TealAuto, the complete vehicle service and expense log, TealPhone, the replacement address book, and TealLock the definitive PalmOS security solution.


Take advantage of TealPoint's Free 30-Day Trial Policy on all products.
Look for Similar Items by Category
Feedback